Continue? is a group of YouTubers consisting of hosts Paul Ritchey, Nick Murphy and Josh Henderson. They host a kind of let's play show where they start playing a game, before asking themselves whether or not they should continue playing it.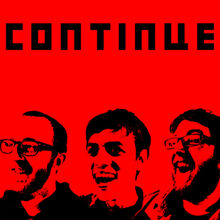 Paul has his own page on this wiki, as he has made several appearances on his own, and this page is solely for when all three are seen together. Paul has also helped edit and write many of Jon's episodes.
Appearances
The Continue? crew first appeared in JonTron Loves Continue?!?, where Jon wanted to help the Continue? team get more publicity, however they only appeared in clips from Jon's favorite episodes of Continue?. The actual team appeared in person in Continue & Jontron - Drunkstravaganza, where Jon and the Continue guys get drunk while playing Mickey Mousecapades, Hyper Zone and Super Godzilla. This was a two part episode, and the second part was shown on Continue's channel.
Jon hangs out with the Continue? team in Are You Afraid of the Dark?. Jon tries to tell them a story, but Jon gets flash banged, and the Continue? guys quietly leave.
The Continue? team are also shown in the NormalBoots Update 2014 video, where they are introduced as returning cast members of Normal Boots.
Links