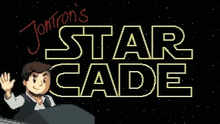 StarCade is a spin-off of the regular JonTron series. The series was sponsored by Disney, and the first few episodes were partially written by third parties, until the fourth episode onward, which are completely written by Jon, Chris O'Neill, and Zach Hadel. The series was designed to help advertise the seventh Star Wars film, The Force Awakens. The series was shown over the course of 2015.
The series is produced by Lauren 'Elle' Williams and directed by Steve Failows. The title cards, intro and art assets are made by Michael Azzi. The music is made by Dominic Ninmark. Each episode also credits special thanks to Chris O'Neil, Zach Hadel, and the rest of the crew.
There are also several other YouTubers who make appearances throughout the StarCade series, including Ross "RubberNinja" O'Donovan and Mark "Markiplier" Fischbach, as well as the first collaboration between Jon and Arin "Egoraptor" Hanson since Jon's departure from Game Grumps two years prior.
List of Episodes
Guests
Starcade includes many guest stars, usually from Polaris
Guests
Alex "Octopimp" - OMG It's Star Wars Guy
Kyle Herbert - Darth Vader (VO) (Episode 1)
Ross "RubberNinja" O'Donovan - Ross Leader
Mark "Markiplier" Fischbach - Mark Leader
Dave Klein - Goblin Head Boy
Brooke "Dodger" Leigh Lawson - Alien
Sam "Strippin" Thorne - Jedi
Nathan Barnatt - Sith
Arin "Egoraptor" Hanson - Darth Vader (Episode 9)
Notable absences
Two other YouTubers, Joe "Angry Joe" Vargas[1] and Jirard "The Completionist" Khalil[2] stated that they would appear on StarCade, however were never seen. It is unknown whether the scenes featuring them were cut or whether they couldn't make it to the recordings.
Controversy
Some controversy has come out from the series. Jon has expressed that he didn't have complete control over the first few episodes despite writing them. However, from the third or fourth episodes, Jon had a lot more control over the series. Jon has also stated that there have been issues behind the scenes, causing a long delay between the third and fourth episodes.